Lifting System Valve compartment MAXIBLOCK series
Monoblock System Height up to 4.00 mt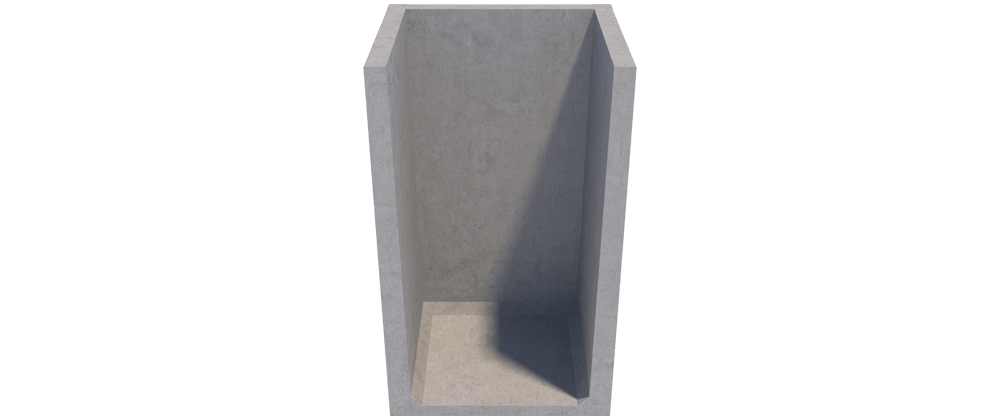 Supply specifications
Lifting System - Valve compartment delivery and installation, manufactured in DECLARED SERIES Mod. MAXIBLOCK_____ with available 10/15/20 cm wall thickness and 15-17.5 bottom thickness - external dimensions cm.____x____xh.____ - external dimensions Valve Compartment __x___x h.____ cm with the same Lifting System height to avoid performing different depth excavations and to use just one foundation slab, manufactured by EDIL IMPIANTI 2 S.r.l. with UNI EN ISO 9001 and ISO 45001 management system, made with vibrated reinforced concrete and CE-marked materials in compression resistance class C45/55 - C50/60 N/mm2, or in SCC (Self- Compacting Concrete) with silica fume additive in compression resistance class C45/55 - C50/60 - C60/75 N/mm2, compliant to UNI EN 206-1 standard for exposure class XC4 (resistance against carbonatation-induced corrosion), XS3-XD3 (resistance against chloride-induced corrosion, also from marine origin), XF3 (resistance against frost/thaw cycles with or without de-icing salts), XA3 (chemically aggressive environment), sulphate attack resistance of high-performance concrete (HPC). compliant with UNI 9156 standard, classified as "sulphate attack resistance of high-performance concrete" which can be enriched on demand with the additive IDROCONCRETE 1200: integral-system crystallization concrete waterproofing admixture, internal improved-adhesion steel reinforcements checked in our plant, ABOVE-GROUND tank REINFORCEMENTS with GREESMIX5® steel fibers and electro-welded square mesh B450C, with certification of CHEMICAL RESISTANCE and REACTION TO FIRE (Class A1) issued by an external body based on UNI EN standards. Design guidelines
Find some useful information to design and plan large- and small-sized systems.
Asking for a preventive opinion from the sewerage operator is always a good practice (e.g., NUOVE ACQUE, ACEA, HERA, IREN, ACAM, PADANIA ACQUE, TEA, MARCHE ACQUE, CIIP) and/or technicians in charge.
Lifting systems should possibly be placed in fenced, restricted traffic zones with easy access for mechanical means suitable for extracting and maintaining submerged pumps. The system needs a dedicated power supply.
The tank requires an overflow drain. The electric pumps installed in black or mixed water treatment networks must be a shredder pump or a pump with a backwards open impeller and the system must be equipped with a specific plate containing readable technical specifications.
Submerged electric pumps must not be fastened to the floor to enable extraction with guide tubes (leading up to the inspection porthole) and extraction chains. All accessories designed to extract electric pumps must be made of stainless steel. At least one backup electric pump with suitable requirements must be installed.
The internal piping must be made of stainless steel. The internal cross-section of the single delivery pipes must be bigger than the internal cross-section of the delivery port of the pump itself. The single delivery pipe of the system must be designed based on the work position and must ensure a wastewater flow speed over 0.4 m/s and below 1.2 m/s.
Access hatches to the plant must be different from the extraction trapdoors for the electric pumps. The internal tank walls must be protected with a waterproofing and anti-corrosion coating such as epoxy paint.
The valve compartment is located next to the lifting station, in case the compartment is too deep, it is possible to make a floor as high as the valve maintenance requires and the space underneath can be filled with certified high-quality polystyrene.
To make the entire structure solid, it is possible to connect vertical walls of both elements (lifting system and valve compartment) with threaded rods and the material must be equipped with standard 3.1 EN ISO 10204 certificates.
The switchboard must be placed in an accessible and practical area, possibly sheltered from weather events. The system can be equipped with an electric system and with remote control to be designed as per technical specifications provided by the Operator. Lifting System - Valve compartment - MAXIBLOCK series Dimensions
Download

Filter by Wall Thickness and Height to see the Results.
(Click on the desired height to filter data)
MAXIBLOCK system extensions

To find the Extension tables and downloads, please visit this section.
MAXIBLOCK system covering

To find the Cover Slabs tables and downloads, please visit this section.