CE Oil skimmer separator Coalescence Filter Lamellar Pack
Prefabricated in reinforced concrete compliant with the UNI EN 858-1 standard requirements
with CE mark as per Regulation No. 305/2011 - Oil separator I class - certified by a third body with declaration of performance (DoP)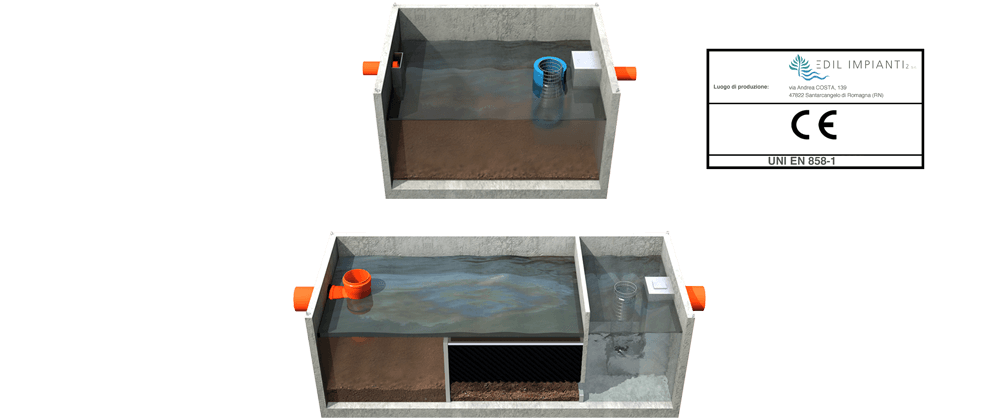 Features and operating principle
The precast concrete oil skimmer separator for rainwater with coalescence filter and automatic locking system have a specific function, i.e., to naturally separate without any chemical additives - sand, mineral oils and hydrocarbons in the inflowing rainwater, i.e., first rainwater or floor washing water.
Rainwater collection from squares and courtyards can mainly be made in two ways: point collection or linear collection.
In systems equipped with oil separators, wastewater remains in the main compartment, where floating materials are (oil, hydrocarbons, etc.), which having a lower density thank water, are collected on the surface of the liquid mass and compose a oil layer with an increasingly higher thickness based on the incoming concentration of these materials. Reference regulations
The Decree Law 152/99 and following amendments/integrations sets out an acceptable oil/hydrocarbons wastewater concentration lower than 10 mg/l for each drain into the sewerage system and lower thank 10 mg/l for each drain into surface water.
Starting from July 1st, 2013, the EU 305/2011 regulation is binding and provides for harmonized conditions for the sale of construction products, thus replacing the old European Directive 89/106 (CPD). Construction products falling within the scope of a harmonized standard and/or compliant with a European technical assessment, as per the Construction Products Regulation 305/2011/UE, must be equipped with a Declaration of Performance (DoP) (replacing the Declaration of Conformity) and CE marking.

EDILIMPIANTI 2 srl manufactures its systems for light liquid separation in compliance with the UNI EN 858 standard, specifically indicating "planning, performance and product test, CE marking and control" criteria, utmost care for its quality level which made it possible for Edil Impianti 2 srl to obtain the independent third body certification as stated in Appendix D chapter D.2.1 of the UNI EN 858 standard.
Thus, we can guarantee:
1. Manufacturer's license validity check;
2. Initial Type Testing (ITT) check;
3. Control outcome conformity check made according to the UNI EN 858 standard.
Supply specifications
Delivery and installation of an underground static oil separator/light liquid separator manufactured in DECLARED SERIES with CE marking, compliant with the UNI EN 858-1 standard as per Regulation No. 305/2011 Class I Separators - Certified by a third body with Declaration of Performance (DoP), mod. DISCE-____ with external dimensions cm.____x____x h____, flow rate ___ lt/sec, with Coalescence filter Refill Modules/Lamellar Packs, manufactured by EDIL IMPIANTI 2 S.r.l. with UNI EN ISO 9001 and ISO 45001 management system made of monoblock vibrated concrete, reinforced with stainless steel vertical pillars and horizontal beams, with CE-certified materials, concrete in compressive strength class C45/55 (RCK >55 N/mm²), internal improved-adhesion steel reinforcements checked in our plant, GREESMIX5® steel fibers (patent No. 0001421398 issued by the Ministry for Economic Development) and electro-welded square mesh B450C, with certification of CHEMICAL RESISTANCE and REACTION TO FIRE (Class A1) issued by an external body based on UNI EN standards.

The Static Oil Separator/Light Liquid Separator with CE marking is supplied with:
inlet/outlet portholes;
inlet connection with gasket in elastomeric rubber and stilling baffle in AISI 304 stainless steel;
sedimentation/oil flotation and de-oiling compartment;
partition wall/s in vibrated reinforced concrete;
floating shutter (automatic shutter system) entirely made of AISI 304 stainless steel;
internal walls coated with epoxy paint modified with hydrocarbon resins for acid-proofing of concrete surfaces, outer wall side coated with suitable waterproofing products.
Static Oil Separator Dimensions / Light Liquid Separator with Modules/ Lamellar Pack coalescence Refill filter
Download E.U. dimensions

Select Article Code to access the E.U. dimensions for the product.
Data Sheet Download

Select Article Code to access the Data Sheet for the product.
Article
Code
Range NS
(lt/sec)
Sludge
Load
Volume
(mc)
Separator
water
Volume
(lt)
Light liquids
storage
capacity
(lt)
Oil separator
External Dimensions
(cm)
Pipes
Diameter (mm)
Tank Weight
(ql)
Cover slab weight (ql)
h. 10 cm
(B125)
h. 15 cm
(C250)
h. 20 cm
(D400)
DISCE1C-FC
1
0,30
581
407
125X130XH100
125
11,8
4,0
6,1
8,1
DISCE1,5C-FC
1,5
0,45
1466
422
125X130XH150
125
15,6
4,0
6,1
8,1
DISCE2C-FC
2
0,60
2127
608
125X180XH150
125
19,6
5,6
8,4
11,2
DISCE3C-FC
3
0,90
3116
887
175X180XH150
125
23,8
7,8
11,7
15,6
DISCE4-8C-FC
4-8
2,40
3928
1341
180X240XH150
160
47,1
10,7
16,1
21,5
DISCE4Y8C-FC
4-8
2,40
4214
967
180X180XH200
160
51,2
8,0
12,1
16,1
DISCE10A-PL
10
1,00
6400
600
180X270XH200
200
63,9
9,8
14,8
19,7
DISCE10B-PL
10
2,00
7168
672
180X300XH200
200
77,4
13,4
20,1
26,8
DISCE10C-PL
10
3,00
7680
720
180X320XH200
200
80,8
14,3
21,5
28,6
DISCE20A-PL
20
2,00
6989
672
180X300XH200
250
77,4
13,4
20,1
26,8
DISCE20B-PL
20
4,00
8736
840
180X370XH200
250
89,3
16,5
24,8
33,1
DISCE20C-PL
20
6,00
9984
960
180X420XH200
250
97,7
18,8
28,2
37,6
DISCE30A-PL
30
3,00
11752
848
246X270XH250
250
109,4
16,5
24,7
33,0
DISCE30B-PL
30
6,00
14102
1017
246X320XH250
250
120,6
19,6
29,3
39,1
DISCE30C-PL
30
9,00
16453
1187
246X370XH250
250
131,7
22,6
33,9
45,2
DISCE40A-PL
40
4,00
13560
1017
246X320XH250
300
126,5
19,6
29,3
39,1
DISCE40B-PL
40
8,00
15820
1187
246X370XH250
300
137,8
22,6
33,9
45,2
DISCE40C-PL
40
12,00
18080
1356
246X420XH250
300
149,2
25,7
38,5
51,3
DISCE50A-PL
50
5,00
13628
1017
246X320XH250
300
125,1
19,6
29,3
39,1
DISCE50B-PL
50
10,00
18170
1356
246X420XH250
300
147,4
25,7
38,5
51,3
DISCE50C-PL
50
15,00
20442
1526
246X470XH250
300
164,0
28,7
43,1
57,4
DISCE60A-PL
60
6,00
13696
1017
246X320XH250
300
125,1
19,6
29,3
39,1
DISCE60B-PL
60
12,00
18261
1356
246X420XH250
300
147,4
25,7
38,5
51,3
DISCE60C-PL
60
18,00
22826
1695
246X520XH250
300
175,2
31,8
47,7
63,6
DISCE70A-PL
70
7,00
20747
1526
246X470XH250
300
164,0
28,7
43,1
57,4
DISCE70B-PL
70
14,00
25357
1865
246X570XH250
300
186,4
34,8
52,2
69,7
DISCE70C-PL
70
21,00
29968
2204
246X670XH250
300
208,7
40,9*
61,4*
81,9*
DISCE80A-PL
80
8,00
23165
1695
246X520XH250
300
175,2
31,8
47,7
63,6
DISCE80B-PL
80
16,00
27798
2034
246X620XH250
300
197,6
37,9*
56,8*
75,8*
DISCE80C-PL
80
24,00
32431
2373
246X720XH250
300
225,4
44,0*
66,0*
88,0*
DISCE90A-PL
90
9,00
23278
1695
246X520XH250
300
175,2
31,8
47,7
63,6
DISCE90B-PL
90
18,00
27934
2034
246X620XH250
300
197,6
37,9*
56,8*
75,8*
DISCE90C-PL
90
27,00
34917
2543
246X770XH250
300
236,5
47,1*
70,6*
94,1*
DISCE100A-PL
100
10,00
24176
1865
246X570XH250
400
186,4
34,8
52,2
69,7
DISCE100B-PL
100
20,00
28572
2204
246X670XH250
400
208,7
40,9*
61,4*
81,9*
DISCE100C-PL
100
30,00
35166
2712
246X820XH250
400
247,7
50,1*
75,2*
100,2*
DISCE120A-PL
120
12,00
24363
1865
246X570XH250
400
186,4
34,8
52,2
69,7
DISCE120B-PL
120
24,00
31007
2373
246X720XH250
400
225,4
44,0*
66,0*
88,0*
DISCE120C-PL
120
36,00
43155
3221
246X970XH250
400
286,7
59,3*
88,9*
118,5*
DISCE150A-PL
150
15,00
31434
2373
246X720XH250
400
225,4
44,0*
66,0*
88,0*
DISCE150B-PL
150
30,00
42661
3221
246X970XH250
400
286,7
59,3*
88,9*
118,5*
DISCE150C-PL
150
45,00
55108
4068
246X570XH250+
246X670XH250
400
163,9+
208,7
34,8+
40,9*
52,2+
61,4*
69,7+
81,9*
DISCE200A-PL
200
20,00
42165
3051
246X920XH250
400
270,1
56,2
84,3
112,4
DISCE200B-PL
200
40,0
58562
4238
246X520XH250+
246X770XH250
400
152,7+
236,5
31,8+
47,1
47,7+
70,6
63,6+
94,1
DISCE200C-PL
200
60,0
74960
5424
246X720XH250+
246X920XH250
400
202,8+
270,1
44,0+
56,2
66,0+
84,3
88,0+
84,3
* Cover Slab divided into two parts
The data reported is purely indicative



Sludge quantity types

A

100

lt. SLUDGE LOAD
TAll rainwater collection areas where small amounts of silt produced by traffic or similar, i.e., catch basins in fuel storage areas and covered refuelling stations

B

200

lt. SLUDGE LOAD
Refueling stations, hand car washes, component washing, bus wash areas, garage wastewater, vehicle parking areas, power stations, plants and machinery

C

300

lt. SLUDGE LOAD
Washing facilities for construction vehicles, construction machinery, agricultural machinery, washing areas,
trucks